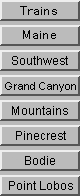 All Images
Copyright &copy
1994-2003
Roy V. Harrington
Site Meter

---

GRAND CANYON JOURNAL
by Vince Harrington

---
Day 1 :-)

Today we arrived at the starting point, Lees Ferry. We had a briefing of all the equipment. Safety is AzRA's number one priority. Most of the rafts were not self-bailing, so everyone got the job of bailing if needed. Finally we started our sixteen day journey down the Colorado. Our very first official rapid was the Paria Riffle. On that same day we went down other little riffles but we also had two larger rapids. That night we camped before a rapid that was quite loud but you were so tired at the end of the day it didn't matter. At about 8:30 it is pitch black and you can hardly see so every one goes to bed.

Day 2

At 4:45 am the guides blew a conch shell to wake everyone up. It was very loud and echoed off the canyon walls. By about 5:30 I decided to get up because we had a hike to do. We hiked up to a beautiful little place up in North Canyon. Everyone took pictures or painted the beautiful scenery. After everyone finished, we packed up and headed down river. While rafting we went through The Roaring 20's which were tons of big rapids. It was very fun going that day because of the continuous rapids. After all the rapids from that day, everyone needed a good night's rest.

Day 3

Everyone woke up for a slow going day. There was a waterfall, Vasey's Paradise, that just came shooting out of the canyon wall that everyone photographed early in the morning. That day we had only one rapid. The water was all calm, and in some places it looked as if you were in Hawaii with nice sandy beaches. Luckily the light wasn't so bright, so many people took photographs. Then we went to Redwall Cavern which was huge. It seemed to go forever at first glance. We had lunch on a neat little beach with ferns. At mile 44 we camped on Eminence Break.

Day 4

A group of us walked up the redwall, a layer of rocks, and had an awesome view of our camp and the rest of the canyon. Everyone who went up the hike took photographs. We then started to float down river to mile 47 and hiked up Saddle Canyon which had a beautiful waterfall. We also had lunch at the top of Saddle Canyon. We continued to float down stream and got to see the next layer of rocks, the Bright Angel Shale. Then we went to mile 53, Nankoweap and camped there. Then many people took a little hike to go see some old pottery made by Indians many years ago. It is amazing that the pots are so old and so many pieces are still there.

Day 5

Today we didn't go rafting and had a lay-over day at Nankoweap. My dad, Julie, Camby, Dawn and I went for big hike up Little Nankoweap Canyon. It was and an day hike from 9 am to 6:30 p.m. There were some steep rocks and loose gravel we had to scramble over to get to the top. We were once again at the top of the red wall. On the red wall there was a spectacular view of our camp. We tried yelling to the camp, but the echo wasn't heard by anyone there. Then we started our way back down to camp. My dad and I described Julie as a mountain goat, she just stood on the loose gravel as though it was solid ground, she was quite amazing. We were relieved to get back to camp after about an eight mile trip.

Day 6

I woke up and had some coffee mocha to keep me awake. Finally there were going to be more rapids. Instead of our guide today, Camby, rowing everyone on our raft had a turn to row. I really enjoyed rowing because it gives you something to do on the raft. Then we stopped at the Little Colorado's muddy water. It was quite interesting to watch the muddy Little Colorado mix with the green water of the Colorado. I did a painting of the river and the mountains and so did many others. Then I showed it to Peter, a professional painter, and he thought it was good because it was so abstract and I didn't care much about the reality. Then we started down the canyon. Dave wanted to swim one of the rapids, so he did. The water was freezing but he went in anyway. That night we stopped at Tanner, mile 68. Most people went for hike in the area and took pictures or painted.

Day 7

Today we awakened to a day of big and wild rapids. We got on our rafts early and started down. I was very excited to have some big rapids. I was right on the bow "wave punching." It was very important to lean into the waves to prevent flipping. By the end of each rapid we had about a foot and a half of water. Bailing out all of the water was a lot of work. Our raft hit a big unexpected rock that our guide, Lora, couldn't see. She was afraid that the boat might have a hole in the bottom because of all the water but luckily it didn't and the water was just from the rapids. Then we arrived at Grapevine for lunch and for camp that night.

Day 8

Again everyone awakened to a nice day of rapids. Dave woke up extra early because he had to hike out at Phantom Ranch. Finally everyone made it to Phantom Ranch. We also picked up a new person to our group, Teresa. Some people mailed postcards or made phone calls at Phantom but most tried to avoid it. After everyone finished up what they were doing, we headed down river through many rapids. Some of the rapids included: Grapevine Rapid, 83 mile Rapid, Zoroaster Rapid, 85 mile Rapid, Pipe Springs Rapid, Horn Creek and Salt Creek Rapid. Then we arrived above Granite Rapid and camped there. We watched other groups go through Granite and photographed them.

Day 9

Today there were going to be some wild rapids and bow riding. First we successfully navigated Granite. Then I got on the bow for going through Hermit, Boucher, Tuna, Agate and many other rapids. We also passed through Crystal Rapid but it was quite boring because we snuck around the side. It is extremely fun on the bow of the boat. The big waves crashing over me were cool. I loved it and people started to say I was "glued" to the bow. We arrived at Elves Chasm and hiked up to a beautiful waterfall with a big pool. I went for a swim and climbed up the waterfall and jumped in, it was lots of fun. Then some people hiked up further. After everyone got back from their hike, we went to Blacktail Canyon. That night my dad and I slept in the Tapeats Sandstone because there were no good campsites. It was very neat to sleep on the rocks but kind of uncomfortable.

Day 10

After packing up our gear and eating, people started a hike up Blacktail Canyon. The canyon was a narrow dark canyon. The sky could barely be seen through the top of the canyon. Everyone took pictures or painted the creek that ran through it. After everyone finished up we headed down river. There was some big rapids including: Fossil, Specter, Bedrock, Deubenforff, Tapeats and a few more. Then we arrived at Deer Creek. We hiked up to the top of Deer Creek and photographed and painted for a long time. It was a very neat place. We hiked back down and had to shuttle across the river to our camp.

Day 11

I missed breakfast so I got all the food left over from everyone else. It was a ton of food. I couldn't eat it all so I had to put it into my day bag. Then we started to drift down river. We arrived at Matkatamiba Canyon where we took a hike. Most people didn't find the trail but hiked up the creek the whole way. Some places of the creek were very narrow, so we had to "spider" up. The last little waterfall was quite hard to get up but we managed to get to the top. The top was a huge open space with an amphitheater. The muav layer of rocks were nice looking and picture worthy. Eventually we hiked back on the trial and went to mile 156 for camp.

Day 12

Today was going to be a fun day. We woke up early to get to Havasu. It was raining for a long time while we were there. Eventually the skies cleared and it was nice and sunny. The water there was bluer and greener than that of Hawaii! The photos and paintings were great. A few people, including me, went for a swim in the clear blue water. It was one of my favorite places we visited. We stayed there for most of the day. By about 3 p.m. we floated to National Canyon to camp. National Canyon was a breezy place which made it cold. That night Bob Rush made a speech about dowsing. It was very interesting.

Day 13

Today we had another lay-over day, so we got to hike up National Canyon. Everyone awakened bright and early to eat breakfast and make bag lunches. Then people started to hike up the canyon. We hiked up to a steep wall and had to use ropes to help us get up. It was kind of scary but also fun. Where the vertical incline was we also had to use the ropes to hoist the huge camera bags up. Once we were high up in the canyon it was beautiful. It was a very photographic place. Everyone hung out there for a couple of hours and the around 3:30 p.m. started back down. When we arrived at the steep decline we used the ropes to rappel down and to lower our bags. I thought the whole hike was fun and exciting. After we got away from all the steep walls it was an easy hike back to camp.

Day 14

We woke up early to get to Lava Falls. We arrived at Lava at about 10:30 to scout it. There were some big holes to go through. My raft stayed behind to watch the other rafts go through and photograph them. Finally my raft went down into the big holes. Water splashed everywhere and filled up the raft completely. We had to bail lots of water out of the raft. Then we drifted down to mile 193 to camp for the night. Chuck missed his graduation ceremony to come on this trip, so we had one for him and made a card for him signed by everyone on the trip. He said he was glad he missed his official ceremony for this one. Everyone had a great time and partied for a long while before going to bed.

Day 15

Today was a pretty slow going day. We had hardly any rapids from mile 193 to 214. Everyone drifted down to mile 214 for lunch. That day was very hot and slow. We stayed at mile 214 for about three hours because every one was so tired. While everyone was sleeping I was with Jon learning how to make split-twig figurines. They were quite interesting to make. Finally everyone woke up and hopped on the boats. We rowed down to Three Springs to photograph and paint. It turned out that it wasn't that great of a place but we still stayed there awhile. Our camp was less than a mile from Three springs. That night we had a big party because it was out last night on the river. It was loads of fun except the thought we would be off the river soon.

Day 16 :-(

Everyone had to wake up early to get to Diamond Creek where the take out was. There was a few little rapids and I rowed a couple of them. We had to try and beat the other private and commercial groups down to the take out. We arrived at Diamond about 10 am and derigged the boats. It was a little bit of fun taking the boats apart and seeing the frames. It is amazing that you can feed about 25 people for sixteen days and have all the supplies and food fit into six rafts. There was a big truck we loaded all of the gear on. We had lunch there and then started back to the La Quinta. We stopped at a little ice cream shop and the guys who worked there played jokes all the time. For example, if you asked for a straw they'd put out a huge hand full or pretend to put mustard on your ice cream. Also the shop windows had fun cartoons and other various signs such as "Sorry we're OPEN" and the doors had a knob on both sides. The store was a very fun place to be. We arrived at the La Quinta and everyone took showers and emptied out all the sand they had on them. We had dinner at a very nice Chinese Restaurant.
---
Most Rights Reserved -- Copyright &copy 1998-1999 Vince Harrington