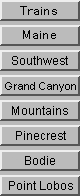 All Images
Copyright &copy
1994-2003
Roy V. Harrington
Site Meter


Gallery and Personal Info:

This gallery displays a representative portion of my photography. I mostly photograph with a 4x5 view camera for my black and white fine art although occasionally I use medium format roll film. The images are all within the last few years from trips in California from the Sierra Nevada Mountains to the Pacific coast. Several of them are from backpack trips in Yosemite and the Emigrant Wilderness. The most recent exhibits are from Arizona and Utah,

I am represented by the Pinecrest Fine Art Gallery in the Sierra Nevada Mountains. Also I am a member of a local cooperative art gallery known as Gallery 9 in Los Altos. If you live or visit in the San Francisco Bay Area please drop in and see my photos as well as various other art work by local artists. My work is also displayed in various businesses as space is available.

Notecards:

I am currently selling some 5x7 folded notecards printed using a high quality duotone offset process. I have five different images, Foxtails, Snowy Trio, Cleo's Bath, Icicles , and Mono Basin. If you are interested in purchasing these notecards, I package them 5 cards for $8 or 10 cards for $14, envelopes included.

Fine Prints:

All my photographs are printed on high quality fiber-based black and white paper. They are archivally processed including selenium toning. The photos are then mounted and over-matted with buffered 100% rag board. My regular sizes are 11x14 prints on 16x20 mats and 16x20 prints on 22x28 mats.

Technical Info:

My film is mostly Tmax 100 ReadyLoad and some Tmax 400 (too bad no readyload available). For developing I currently use XTOL 1:1 in a Jobo Processor but have used several others over the years D76 1:1, HC110 1:64 and TmaxRS 1:9. My paper is Ilford Multigrade Fiber IV Glossy. I'm certainly open to any questions about all this.

Send me some mail with comments or questions.
Let me know what you think. I'd be glad to hear from you.